Royal Concert Hall, Nottingham 8th March 2020
I'm known for connecting people, but did you know I love music?
I first met Paul Murphy when he was Chief Inspector, Operations, and engaged me to work on a project with Nottinghamshire Police.
Already a musician in his spare time and he went on to form The Limelight Orchestra who have done some amazing work over the last few years.
When Paul approached me to work on the DIVA project with him I jumped at the chance to both work with him again and combine my love of all things music with the opportunity to bring so many people together for a concert.
The iconic anthems of female superstars from Shirley Bassey to Beyoncé are to be celebrated in an uplifting live music show to mark International Women's Day.
Diva brings together the 50-piece Limelight Orchestra with pop, soul, jazz and musical theatre vocalists for a special one-off event at Nottingham's Royal Concert Hall on 8 March 2020.
The concert will also be raising money for the Nottingham Women's Centre, which has been working for more than 40 years to help women gain confidence and skills to achieve their full potential.
The celebratory concert will feature memorable renditions of songs from the most iconic female singers of the last 60 years backed by a breathtakingly big sound from the city's leading contemporary orchestra. The show captures the strength of women through three decades of classic hits from Get This Party Started, I Wanna Dance With Somebody, I'm Every Woman, Lady Marmalade, I Am What I Am, Run The World and Crazy In Love.
Which badass song gets your vote?
To mark the launch of this event we are inviting people to vote for their biggest and most badass song by a Diva with the winning number being added to the programme.
You can follow the Diva social media (see below) to find out how to vote and be in with a chance to win tickets.
Co-hosted by singer-songwriter Nina Smith and Kemet FM's Jackie P, the concert will also feature the Nottingham Women's Centre choir with the Nottingham Girls' High School Choir performing as the chorus.
See yourself on stage?
The search is on for the most inspiring women in the region to sing a female power anthem on stage with the singers and the Limelight Orchestra at the concert.
Sponsorship
We also have a number of sponsorship opportunities available for you to be involved in this worthwhile charitable event to mark International Women's Day and support the Nottingham Women's Centre.
Please contact me for further details and also see below.
We can also customise a sponsorship package for you if are interested in supporting this charity concert.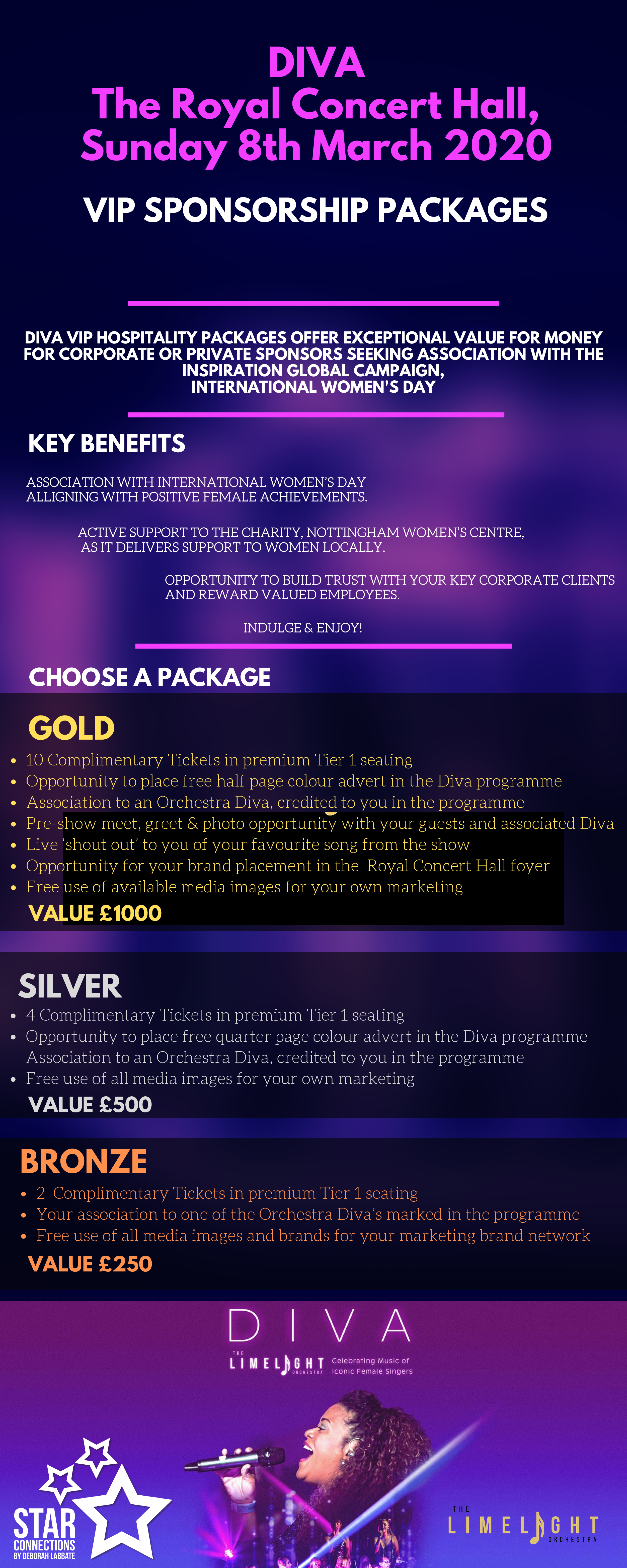 Concert Tickets
Tickets are on sale and available priced from £19.50 to £29.50.
Keeping up to date
We'll post updates about this event on LinkedIn.
You can also follow us on Twitter, Facebook and Instagram:
Star Connections on Twitter: @ConnectionsStar and @deborahstar
Along with @LimelightOrchUK
Please use the hashtags #DivaNotts and #IWD2020 and please do share this information with your business contacts and friends.
You can also follow the Limelight Orchestra on Facebook and on Instagram and check out their website
About The Limelight Orchestra
The Limelight Orchestra performs contemporary entertainment music through a unique orchestral and vocal format. Formed in 2016, Limelight originated in Nottingham and takes its name from a reference to the Victorian stage lighting which were lit by burning a Lime mix; hence 'in and out of the limelight'.
Thematic shows have included a celebration of Queen's Diamond Jubilee birthday, a Ska big band Hootenanny, a centenary show on World War One and Suffragette votes for Women 1918.
About Nottingham Women's Centre
Formed more than 40 years ago, and run by women for women, the centre aims to help all women to gain the confidence and skills to achieve their potential and become stronger and more independent.
It provides a safe and supportive environment in which women can do this either by taking part in training or activities, getting support and services, or campaigning and becoming active in bringing about change.
The centre works across Nottingham and Nottinghamshire offering a range of formal services to women with mental health needs, women offenders, women who are seeking asylum, facing extreme poverty, escaping abuse or women simply wanting to make a change in their lives. More on Nottingham Women's Centre here
For more information on any of the above please contact me via email, my website or LinkedIn
I hope you'll join me for what's going to be an amazing evening on March 8th!