How about you?
Are you where you want to be? If not, there's work can be done.
I've co-piloted business owners of established businesses and start-ups to success in varying industries, sometimes with very little knowledge of the industry to begin with. My naturally intuitive, enthusiastic and empathetic character lets me listen carefully and compassionately to understand where you are and what might be stopping you move forward.
With an established and active involvement in business networks across the East Midlands, and beyond, I can offer some smart, on-the-pulse ideas (and smart connections) to help business owners, and people at a career crossroads, become and stay where they want to be.
Where do you want to be?
I have a knack of being able to help people break through barriers, often before they see them coming. By listening to where you are my view can help you identify not just solutions to reaching your goals, but also insight into the barriers that may be preventing you from achieving them.
Many of my clients have been surprised at some of the observations I've made which have allowed them and their businesses to shine brighter.
Shrink the Gap
With experience at the deep end (in both the high times and the low), I can help you identify strengths and weaknesses in the various facets that build up your business life. When you are so engrained in a business it's often easy to accept the day-to-day happenings are 'the way it works'. A fresh, experienced perspective though can provide some intelligent insight and suggestions for improvement.
I'm on the pulse in a numbers are areas including
technology – offering software solutions to overcome business challenges, streamline processes and increase operational efficiency
funding and investments
local business news and opportunities
networking to expand your reach
If there's anything might help you go further, faster (and still have time to play) chances are my keen and experienced eye can help you identify it quickly. All it takes is a little time to talk…
Contact Me
Throughout Deborah's time on our board I found her to be consistently providing advice through a thought provoking questioning style which not only challenged but also offered support and guidance. Given the opportunities that were presented to Deborah through her extensive network our organisation benefited from her ability to connect our organisation to other stakeholders around the city. I would have no hesitation in endorsing Deborah for any Non Executive role as she would be an asset to an organisation.
Michael Wisher
"Deborah is very passionate about the projects she works on. I have been lucky to work with Deborah over recent years where she was instrumental in assisting not only with the development of my company plans but also my personal development. Deborah is able to provide a fresh perspective to challenges and utilises her experience to assist others, she listens carefully to business challenges in order to provide suitable solutions. Deborah has strong networking skills which she is committed to developing to assist her practical knowledge in a range of business disciplines alongside ensuring others develop successful connections. Deborah is a pleasure to work with and I would not hesitate in recommending her or endorsing her as a Non-Executive Director."
Bobby Kalar
Being a performer, you constantly have to break your own boudaries and overcome nerves. Deborah has taught me a great confidence building skill that has really helped in beating those nerves and in making me feel more at ease when performing. The techniques that I continue to use are a massive help.
Callum Burrows
Singer, Guitarist & Songwriter / Saint Raymond
Deborah is without doubt a 'Consumate Professional'! she applies her personal values to her world of work in every way. I describe Deborah as diligent, industrious and incredibly resourceful. She has an infectious enthusiasm for work and an amazing loyalty to those she works with and for, and i would say Deborah is entirely dependable, a strong team worker, she prefers to lead than be led, and she has true discretion in the highly confidential nature of her role.
Tim Page
Commercial Manager / Innovate Foods
I cannot recommend this workshop highly enough. As busy business owners, we work day and night in our business and rarely take the time to evaluate our goals and visions. This workshop really had a 'WOW FACTOR' for me. It allowed me to take stock of what I am doing and more importantly what I would like to achieve. It was a superb session to gain clarity and focus ahead of the coming year. Deborah's approach is outstanding, she is very welcoming and organised. She injects an element of magic into what she does. I came away from this workshop feeling highly motivated, clear and focused. I would urge anybody in business to take the time to attend this. No matter what line of business you are in, it is a highly worthwhile workshop to attend. I will look forward to attending other workshops by Deborah Labbate. She brings out the best in people, you really cannot ask for more. Thank You Deborah for helping to give me focus and clarity, I believe this will help my business to reach new heights.
Victoria Taylor
Managing Director / Blend Social
Deborah partnered with us at Baldwins to deliver a series of 'working 'lunch' style workshops to our clients and contacts. The content was thought provoking, and delivered in Deborah's inimitable direct style it captured the attention of all attendees. I would recommend Deborah as a speaker and look forward to working with her again in the future.
Nikki Fryer
Baldwins Accountants
I had been invited to speak in front of a hundred people at a pharmaceutical conference in the US. I'm used to making presentations but for some reason this one had me literally paralysed with fear. I had a total block and couldn't think rationally, or prepare properly for the talk. I spent an hour with Deborah the day before I flew to the US, and she taught me a simple technique which I put into practice straight away. On the day, I was looking forward to the talk rather than dreading it, and I know I delivered a fantastic presentation because of the feedback I received afterwards, along with the business leads! The technique is a powerful confidence-booster and I know I'll use it forever. Thank you Deborah!
Louise Righton
Operations Manager / 3M Health Care
My commission to Deborah was to engage with young, aspiring managers and leaders in order to offer a range of appropriate development models that could enhance their personal and professional ambitions. Deborah embraced this challenge introducing a range of techniques to my team managers. Understanding their personal ambitions and areas for development, Deborah provided managers with opportunities to better understand their roles as team players, including the positive impact from emotional intelligence. Feedback from my team has been positive, as they appreciated the opportunity to dedicate time for self-development. Deborah's personable style allied with a broad professional skill has helped my management team to constructively develop themselves as effective managers and leaders.
Paul Murphy
Chief Inspector / Nottinghamshire Police
I think the sign of someone who is good at what they do is they make something that is difficult appear seamless and easy. Deborah is definitely in this space as a coach and mentor. I've known Deborah for nearly 2 years and she takes the time to understand you as a person, using her real-world experience to guide you on your journey, whether this be through tips on how to focus on what's important or making decisions, providing a sounding board and generally making it "less lonely at the top". Deborah is rare in that she really cares about people and is selfless in understanding "who" you are and helping you "become who you will be". She is also one of the few people that is more positive than me, a true positive optimistic realist, trying to bring out the best in all. Deborah uses a combination of what I would call coaching by osmosis as well as sharing tips and tricks to help get you where you need to be. I've learnt a lot from Deborah and hope to continue to for many years to come.
Steve Weston
Co-Founder / Buying Butler
I can highly recommend Deborah's work. She has been mentoring me for the past twelve months and the results have been considerable. I run two businesses in the UK and a third in Eastern Europe , so demands on my time are very high. Deborah has helped me refocus and manage my multiple objectives and put them in order. She is also very good at helping at relationship building and clarifying values which become the most effective way of driving behaviour and achieving results. I have been very pleased with the outcome.
Charles Wood
Managing Director / Airospring Medical Ltd

More Posts
Press Releases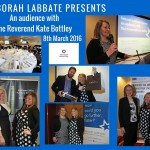 Deborah Labbate Presents An audience with . . .
-
Deborah Labbate Presents An audience with The Reverend Kate Bottley for International Women's Day, Tuesday 8th March 2016  Thank you so much for joining me at this event. It was great to see you! Here's a few photos from the event. Thanks to your generosity you raised a wonderful £479.81 for the John van […]
More Press Releases