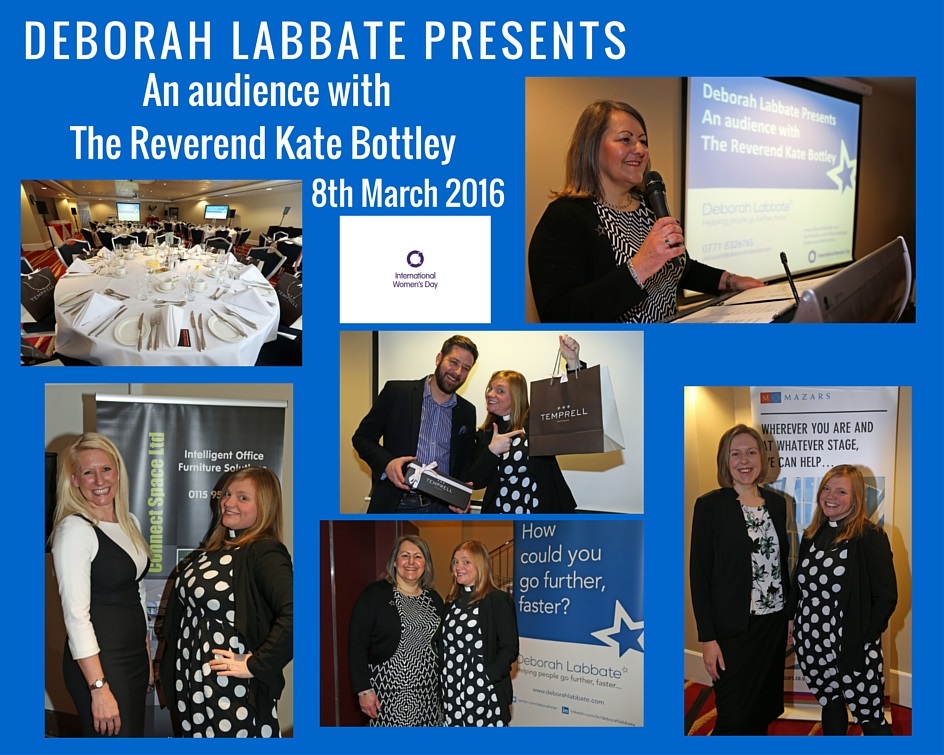 Deborah Labbate Presents An audience with The Reverend Kate Bottley for International Women's Day, Tuesday 8th March 2016 
Thank you so much for joining me at this event.
It was great to see you!
Here's a few photos from the event.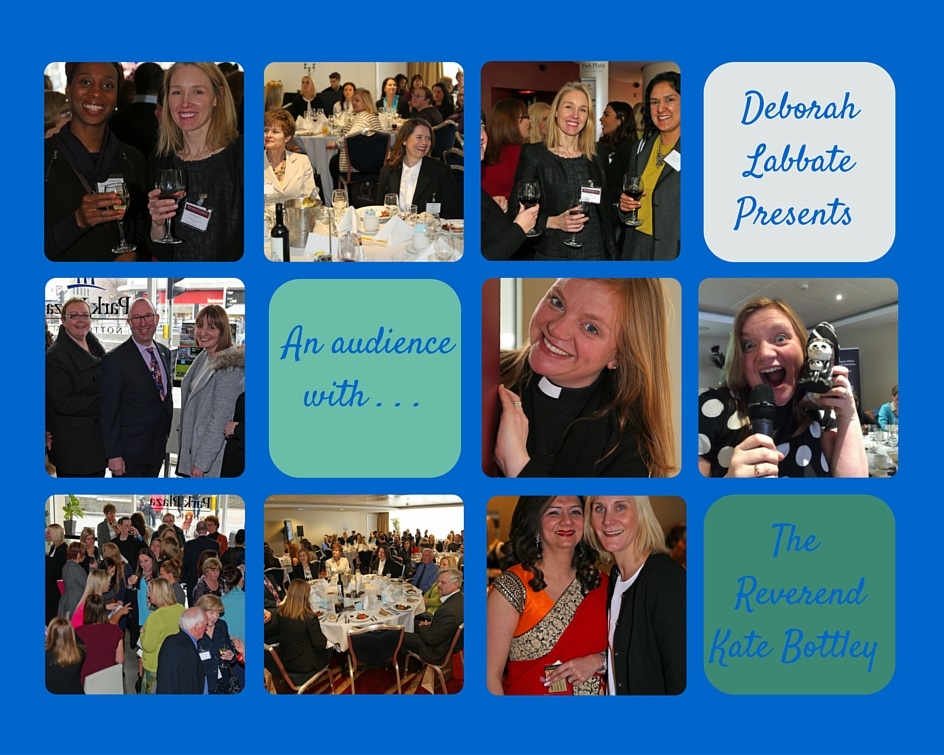 Thanks to your generosity you raised a wonderful £479.81 for the John van Geest Cancer Research Centre.
Well done to all the raffle winners ~ I hope you enjoy your prizes!
A big thank you to all those who supported by donating raffle prizes including:
The Nottingham Belfry Hotel, Marco Pierre White Steakhouse Bar & Grill, Chino Latino, Hairven, The Footman's Rest, George Thornton Art, Connect Space, Veeno Nottingham, Claire Herbert of Gateley, The Lace Market Hotel and Temprell Jewellers.  I think Jane Aves from Flint Bishop was very pleased with her birthday win of the Daniel Wellington ladies watch!
On Thursday 21st April George Thornton Art have an invitation only event in the gallery where you will have the opportunity to meet a number of artists and be the first to witness a new collection of artwork whilst you enjoy a glass of champagne accompanied by canapés within the beautiful gallery surroundings.  George Thornton is a former start up client of mine and has supported my last two events with a generous raffle prize of a limited edition print. I am always delighted to be able to support George's events and will be at the gallery located in Flying Horse Walk for this one.
If you would like an invitation let me know and I will ask him to include you on the guest list.
The team at the John van Geest Cancer Research Centre also say Thank You for your donations!
As Professor Robert Rees explained the centre is funded for its buildings and administration by Nottingham Trent University so all the money raised will go directly to the centre for research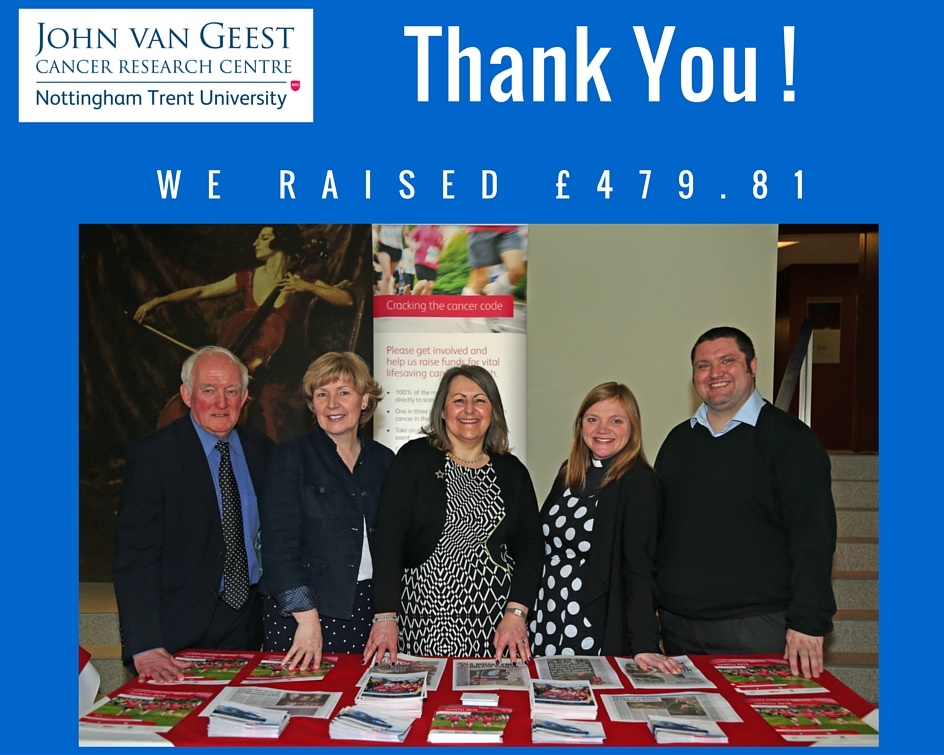 You can read more about the work of the centre here
I'd like to say another huge thanks to my sponsors Connect Space, Mazars, the Park Plaza Hotel, Nottingham, GL Productions and Temprell 
If you would be interested in sponsoring my future events please do get in touch 
Please do remember to make use of the various discount vouchers and loyalty cards that were in your goody bags including Veeno and Chino Latino, Connect Space and Temprell Jewellers  (You can check out more of their designs on Pinterest) as well as paying a visit to Stephanie and Gemma on the Liz Earle counter in John Lewis, Nottingham .  I hope you enjoyed your free cleanse and polish sample (you gentleman can use it too!).
Also I hope you've had chance to make use of your gift from me and had a read through the Pomodoro Technique and other uses of your Star Timer.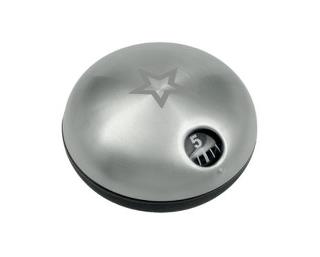 If you would be interested in a Time Audit and any other help with Time Management let me know
You can read my book on the subject here or download your copy via the sign up on my website
I also offer one off networking strategy sessions if you need some help in that area with how to or where to and you'll find a free 25 minute video packed with networking tips here
More information on my Business Solutions services  are also on my website and for those who don't know me so well (or think I only organise events) you can read a bit more about me and my business history here and also on LinkedIn.
If there's anything else I can help you with or anyone I can put you in touch with do drop me a line  I'm often called The Connector!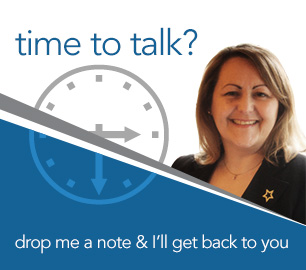 Other ways to keep in touch ~ Join me on LinkedIn | Twitter | Facebook
Thanks again for joining me at Deborah Labbate Presents  . . .
I think The Reverend Kate Bottley summed up the essence of the day best so I'll leave the final word to her!